Patient experience during COVID-19 - two new Healthwatch Manchester reports
We are delighted to release two new reports looking into patient experiences of care during the COVID-19 pandemic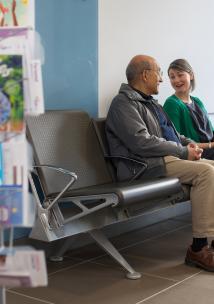 Two new reports released today by Healthwatch Manchester highlight the excellent work done by social workers in Manchester during the COVID-19 pandemic.
We conducted two surveys with Manchester residents, one with people who have had a recent experience of being discharged into care from hospital, and another with people who have had a recent social care assessment.
One of the findings which was consistent through both reports was the very positive feedback about the care provided by social workers. Some of our respondents described their care as 'fantastic', 'excellent', and said that staff went 'above and beyond'.
The reports were commissioned by Manchester City Council, who wanted to hear the experiences of people who had used these services since the beginning of the pandemic.
The reports can be accessed below.
Cllr Joanna Midgeley, Deputy Leader with responsibility for Health and Care at Manchester City Council, said:
"This feedback is such a credit to our social workers and shows the depth of their dedication, skill and humanity at such a critical time for everyone in Manchester.
"It also shows the depth of the partnerships between our social work teams and the people they are supporting in the city, so that the best personal outcomes can be achieved for all involved."
Neil Walbran, Chief Officer for Healthwatch Manchester, said:
"From the conversations we've had with local people it's clear that our social workers stepped up to the challenge through the pandemic. It's great to be able to acknowledge their hard work and professionalism through our two reports."