If you are concerned about dementia
Living with dementia at any time brings everyday challenges for the person and those around them.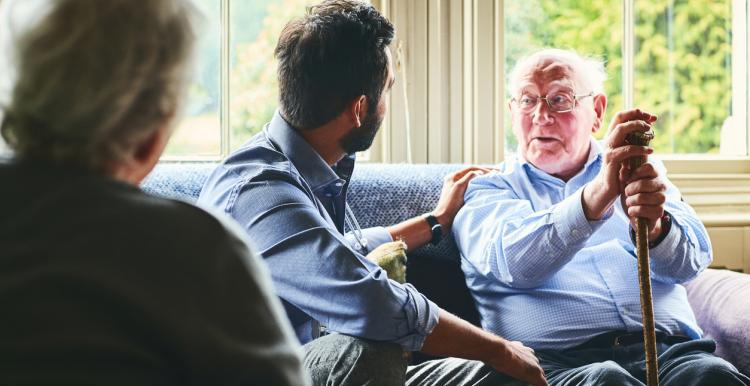 Covid-19 Update
Living with dementia at any time brings everyday challenges for the person and those around them. Coronavirus is making daily life much harder. You may feel anxious, scared or lonely. But you are not alone – help is available.
See this page on the Alzheimer"s Society website for up to date information and support.
What is dementia?
The word 'dementia' describes a set of symptoms that may include memory loss and difficulties with thinking, problem-solving or language. These changes are often small to start with, but for someone with dementia they have become severe enough to affect daily life.
A person with dementia may also experience changes in their mood or behaviour.
As you get older it might be normal to find yourself to be more forgetful. Memory loss can be caused by stress, tiredness, illnesses or medications.
Dementia is not a natural passage of ageing and it is caused by brain diseases that slowly and progressively damage the brain.
The most common types are Alzheimer's disease and vascular dementia.
The bookcase analogy
Jemma Jones devised the bookcase analogy to explain in simple words what dementia is. Also, how much important it is to consider that every single person will be affected by dementia in a different way and their emotions won't be forgotten.
On the following link you can watch Natalie Rodriguez from Dementia Friends using the bookcase analogy to make easy for Dementia Champions to talk about dementia.
Dementia Friends - Bookcase analogy
What are the symptoms?
The symptoms of dementia are often different in the early stages but become more similar in the later stages. This is because more of the brain is damaged as the different diseases progress. In the later stages of dementia, the person will need more and more support to carry out everyday tasks. However, many people with dementia live well for years after their diagnosis.
Each person is unique and will experience dementia in their own way.
The different types of dementia also tend to affect people differently, especially in the early stages. Other factors that will affect how well someone can live with dementia include how other people respond to them and the environment around them.
A person with dementia will have cognitive symptoms (to do with thinking or memory). They will often have problems with some of the following:
day-to-day memory – for example, difficulty recalling events that happened recently n
concentrating, planning or organising – for example, difficulties making decisions, solving problems or carrying out a sequence of tasks (such as cooking a meal)
language – for example, difficulties following a conversation or finding the right word for something
visuospatial skills – for example, problems judging distances (such as on stairs) and seeing objects in three dimensions
orientation – for example, losing track of the day or date, or becoming confused about where they are.
How are people diagnosed?
Although there is no cure for dementia at present, if it's diagnosed in the early stages, there are ways you can slow it down and maintain mental functions.
A diagnosis can help people with dementia get the right treatment and support, and help those close to them to prepare and plan for the future.
Appointment with your GP
A common pattern is to see your GP to make an initial assessment. It would be best, if someone close to you could come and help describe any changes  or problems they have noticed. They might be also able to help you remember what was said at the appointment.
To help rule out other causes of memory loss you might undergo a physical examination and asked to organise blood tests.
Your GP may also ask about whether you're finding it difficult to manage everyday activities, such as:
personal care (bathing and dressing)
cooking and shopping
paying bills
Referral to a specialist
Occasionally a GP or specialist nurse will make the diagnosis, depending on their expertise and training.
If your GP is unsure about your diagnosis, they'll refer you to a specialist, such as:
a psychiatrist with experience of treating dementia (usually called an old age psychiatrist)
an elderly care physician (sometimes called a geriatrician)
a neurologist (an expert in treating conditions that affect the brain and nervous system)
The specialist may be based in a memory clinic alongside other professionals who are experts in diagnosing, caring for and advising people with dementia, and their families.
It's important to make good use of your consultation with the specialist. Write down questions you want to ask, make a note of any medical terms the doctor might use, and ask if you can come back if you think of any more questions. A diagnosis is based on a combination of things:
taking a 'history' – the doctor talking to the person and someone who knows them well about how their problems developed and how they are now affecting their daily life
physical examination and tests (for example, blood tests) to exclude other possible causes of the person's symptoms
tests of mental abilities (for example, memory, thinking) – simpler tests will be carried out by a nurse or doctor, more specialist tests by a psychologist
a scan of the brain, if this is needed to make the diagnosis.
What if the diagnosis is dementia?
Once you've had the necessary tests (or sometimes before the tests), your doctor should ask if you want to know your diagnosis.
They should explain what having dementia might mean for you, and should give you time to talk more about the condition and ask any questions you may have.
Unless you decide otherwise, your doctor or a member of their team should explain to you and your family:
the type of dementia you have or, if it's not clear, what the plan to investigate further will involve; sometimes, despite investigations, a diagnosis may not be clear, in which case the doctors will reassess you again after a period of time
details about symptoms and how the illness might develop
appropriate treatments you might be offered
care and support services in your area
support groups and voluntary organisations for people with dementia and their families and carers
advocacy services
advice about continuing to drive or your employment if this applies to you
where you can find financial and legal advice
You should also be given written information about dementia.
Ongoing assessment
Once you've been given a diagnosis, your GP should arrange to see you from time to time to see how you're getting on.
The memory service where you were assessed may also continue to see you in the early stages.
The GP and the specialist may also jointly prescribe medications that may be helpful in treating some of the symptoms of dementia. But not everybody will benefit from these drugs.
An ongoing assessment of your dementia may be a good time to consider your plans for the future, perhaps including a Lasting Power of Attorney to take care of your future welfare or financial needs, or an advance statement about your future care.
Living well with dementia
Dementia can affect all aspects of a person's life, as well as those around them.
If you have been diagnosed with dementia, it's important to remember that:
you're still you, even though you have problems with memory, concentration and planning
everyone experiences dementia differently
focusing on the things you can still do and enjoy will help you to stay positiv
With the right help and support when you need it, many people can, and do, live well with dementia for several years.
Taking care of your health
It's important to look after your physical and mental health when you have dementia:
If you have a long-term condition, such as diabetes or heart disease, try to attend regular check-ups with your GP, which should include a review of the medicines you're taking.
See your GP if you feel unwell, as things like chest or urine infections can make you feel very confused if not treated promptly.
Tips for every day's life
Coping with memory loss and problems with thinking speed can be distressing. But there are things that can help:
have a regular routine
put a weekly timetable on the kitchen wall or fridge, and try to schedule activities for when you feel better (for example, in the mornings)
put your keys in an obvious place, such as a large bowl in the hall
keep a list of helpful numbers (including who to contact in an emergency) by the phone
put regular bills on direct debits so you don't forget to pay them
use a pill organiser box to help you remember which medicines to take and when (your pharmacist can help you get one)
make sure your home is dementia-friendly and safe
Maintaining a social life
Staying socially active and being part of a group help your confidence and mental well-being.
It's a good idea to join a local dementia-friendly group, perhaps a memory café or community centre. You can share experiences and use tips from others who are living with dementia. See below for more details on Dementia Cafes.
If you have someone caring for you , an active social life would be beneficial to them as well.
For a list of support services around you consult the Alzheimer's Society website. 
For an on line community where to discuss your concerns and share your experience with dementia join the Talking Point Community of the Alzheimer's Society.
What is an Admiral Nurse?
Admiral nurses work with people and families affected by all type of dementia by giving them one-to-one support, expert guidance and practical solutions.
When communication gets hard it is likely that you or the person you care for can show signs of fear  and distress. Admiral nurses can assist you in developing  skills and techniques  to help you stay connected to the person you love.
Some examples of these tips can be found on the following links:
How to handle communication challenges
You can call the Admiral Nurse Dementia Helpline from 9am-9pm Monday to Friday, and from 9am-5pm during the weekend.
0800 888 6678
Admiral Nurses work in the community, in care homes, in hospices and hospitals. In order to receive support from them you will be needing a referral from the health professional allocated to you or the person you care for. There are three neighbourhood teams in Manchester.
North Manchester:
0161 271 0277
North Manchester Later Life CMHT, 11th Floor, Hexagon Tower, Crumpsall Vale, Manchester M9 8GQ
Central Manchester:
0161 271 0038
Central Manchester Later Life CMHT, Chorlton House, 70 Manchester Road, Manchester, M21 9UN
South Manchester:
0161 219 2336
South Manchester Later Life CMHT, 2nd Floor Etrop Court, Rowlandsway, Manchester, M22 5RG
Dementia Cafes
Venues and dates can vary. Contact the groups using the details below to confirm the details prior to attending.
Alzheimer's Society North Activity Group
Fortnightly on Tuesday 2:30-4pm
Dunstan Court, Bluestone Road, Moston, M40 9JE
0161 962 4769
Dementia Action Group
Tuesdays at 12:30pm, venue and date can vary.
Chorlton Central Church, Barlow Moor Road, M21 8DF
Fabulous Forgetful Friends
Last Tuesday of the month at 11:30am
Chorlton Central Church, Barlow Moor Road, M21 8DF
sally@togetherdementiasupport.org
Alzheimer's Society Singing Group
Every Thursday 10:30am-12:30pm
St Andrews Methodist Church, Brownley Road, Wythenshawe, M22 0DW
0161 962 4769
Alzheimer's Society Games for the Brain
Fortnightly from 2-3:30pm
St Andrews Methodist Church, Brownley Road, Wythenshawe, M22 0DW
0161 962 4769
Table Tennis Sessions
Fridays 11am-1pm
Limelight, 1 St Brides Way, Old Trafford, M16 9NW
03000 112 112
info@limelightoldtrafford.co.uk