Come work with us - we're recruiting a new Chair
Healthwatch Manchester seeks a dynamic new Chair to provide the organisation with strategic leadership. The Chair will have an opportunity to influence the provision & quality of health and social care.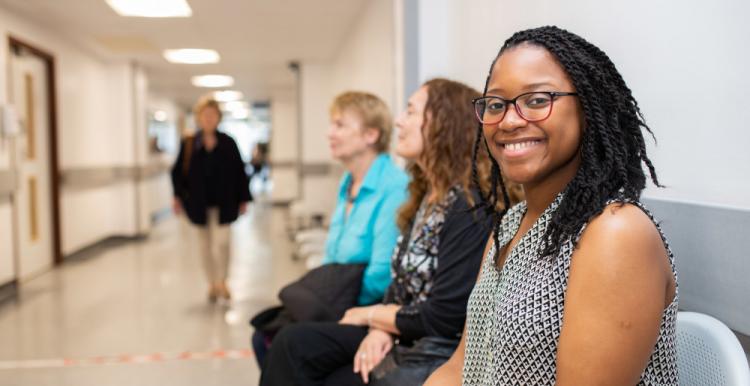 What will you be doing?
The Chair will be responsible for the strategic leadership & development of Healthwatch Manchester, working collaboratively with a broad range of stakeholders, including statutory & voluntary sector partners, members of the public & volunteers.
The Chair will be required to influence & achieve change within complex changing health & social care systems with support from staff, volunteers & other stakeholders.
The Chair will work closely & effectively with Board members of NHS, Local Care Organisation & other organisations associated with the provision, delivery & quality of health & social care.
1. To lead Healthwatch Manchester & ensure transparent & effective governance arrangements.
2. To guide & manage the CEO to ensure that Healthwatch Manchester is effective in meeting its objectives in line with the aims & values of Healthwatch.
3. To support the recruitment, selection & induction of Directors & any other appropriate appointments.
4. To lead the development of the Healthwatch Manchester Board.
5. To represent Healthwatch Manchester on the Health & Wellbeing Boards, & other boards & committees as required.
6. To, jointly with the CEO, be a media spokesperson for Healthwatch Manchester.
7. To ensure that effective governance structures ensure Healthwatch Manchester works in healthy, safe & secure manner - in accordance with its legal duties (including adhering to practices in safeguarding & child protection).
8. To work with the CEO, other employees, volunteers & the public to plan annual cycles of meetings, including agenda setting.
9. To be responsible for personal learning & development where appropriate & undertake training to increase knowledge, skills & awareness.
10. To operate within the aims, policies & practices of Healthwatch Manchester at all times & to be committed to & promote the organisation's Equal Opportunities & Anti-Discriminatory policies.
11. To adhere to the required high standards of corporate & personal conduct as expected in a high profile public role in accordance with the Nolan Principles.
12. To be aware of Directors' conflicts of interest, actual or potential, that might arise in the course of Board business & ensure these are declared in an appropriate & transparent manner.
What are we looking for?
Core Competencies
> Strong leadership, communication & interpersonal skills, & able to work effectively with & influence a wide range of stakeholders & audiences
> Strategic thinking, able to analyse complex information, demonstrate clear analytical thinking & guide rational decision making
> Able to lead the organisation through periods of change & effectively introduce innovative ways of working
> Lead with compassion, attention to detail & influence critical to the role
> Champion the values, ethos & objectives of Healthwatch Manchester
Knowledge & experience
> Good understanding of health, social care & wellbeing issues & challenges facing the NHS & local authorities
> Able to demonstrate good awareness & understanding of the current environment in Manchester & how local health, social care & wellbeing services are commissioned & delivered
> Experience of leading an organisation, as a member of a management board, committee or senior management team.
Skills & abilities
> Structured & measured in approach whilst having creativity in transformation.
> Strong strategic planning skills, able to develop vision & encourage others to contribute
> Able to challenge appropriately & hold the Board & staff team to account, with a wider vision to raise standards across Healthwatch Manchester
> Skilled at bringing people together to generate a strong team spirit, able to work collaboratively, building consensus & encouraging decision making
Personal behaviour & style
> Passionate about promoting better outcomes in health & social care for all
> Actively leads by example with the professional conduct expected of the Independent Chair role
> Proactively demonstrates strong commitment to equality & diversity
> Listens to others & provides decisive leadership when it is required
> Supportive management style that motivates people to deliver their best
> Open to learning & development, for self, staff & the Board
> Commitment to valuing diversity & equal opportunities
> Time & commitment to effectively discharge the responsibilities of the post
> IT literate with access to IT equipment.
What difference will you make?
The Chair will enable the influence of and achieve change within complex changing health and social care systems with support from staff, volunteers and other stakeholders.
Using the statutory powers of a Healthwatch the Chair will oversee the implementation of recommendations made by local investigations into health and care by the staff team.
Promoting inclusion of social value in commissioning and co-production in service design the Chair will ensure the vision of the organisation is followed:
To enable real and long-term improvements to the health and social care of the people and communities of Manchester.
What's in it for the volunteer?
Working with a small and close staff team with extensive volunteer support who are passionate about championing the rights and voices of citizens in health and care, the Chair will gain the opportunity to shape and influence the local health and social care landscape. 
The new integrated health and care system presents a unique challenge in positioning Healthwatch Manchester in the optimum place to achieve its aims and objectives and create a legacy of effective locality and City Region activity.